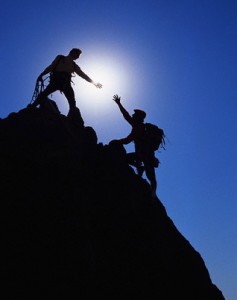 If you're not looking to attract more clients, make more money, and get better results, then you've come to the wrong place. But if you want to live your ideal life by helping your clients live theirs, then I have an exciting program to share with you.
The easiest way to gain new clients is to make sure your current ones are happy. It's a simple equation really, Happy Clients = More Business for You. When your clients are achieving results, they become raving fans that sing your praises and freely refer you.
Most business and life coaches WANT their clients to thrive, but sometimes struggle to ensure their success.
So how can you guarantee that your clients get the results they're looking for?
How do you get them to follow through on the commitments they make in your coaching sessions?
How do you motivate them to take action?
If you've ever asked yourself these questions, you're not alone. When clients aren't reaching their goals it can decrease your confidence level and leave you paralyzed or racking your brain to figure out how to get the job done.
But take heart, because even if your clients aren't getting results, it doesn't mean you're a bad coach. Just as the world's best auto mechanic would have a hard time fixing a car without the proper tools, your coaching knowledge and know-how can only take you so far. Not having access to the proper tools can sabotage your success and that of your clients.
Coaching would be easier if you could be with your client 24/7 whispering in their ear "Don't eat that cupcake!" It would be nice if you could drag them out of bed at 6:00 am to hit the gym, make them pick up the phone to call their prospects, or find a way to shift their mindset. What if I told you there was a way to do this? A tool you could implement that is nearly as effective as doing all of those things?
Now there is. You have the opportunity to be one of the few coaches with access to this tool, this breakthrough system that increases results and boosts client satisfaction. And Happy Clients = More Business for You!
I'm Ann Webb, a Life Vision Expert and Trainer, and I'd like to introduce you to the
Ideal LifeVision Certified Coach Training Program.
In this program, I will personally teach you how to use the Ideal LifeVision tool to help your clients move ahead and reach their goals. After learning this system, you will be able to charge what you're worth, have clients who stay for months at a time, bring in constant referrals, and add an exciting new revenue stream to your business.
The best part? You don't have to spend hundreds of hours figuring it out on your own. I've been through the trial and error process for you, so what you get is a proven tool that will work time after time with clients of all varieties.
 "Ideal LifeVision is the tool I use for both mindset and implementation. It keeps my clients on track, even when I'm not there.
Prior to using Ideal LifeVision with my client Pat, she struggled implementing the prescribed eating plan and exercise routines. She found excuse after excuse for not sticking to it, and constantly blamed her deeply engrained habits and sabotage. After implementing the program, she connected her WHY with the details of her fitness routines and she dropped 30 lbs!"
~Kate, a Certified Ideal LifeVision Coach and Personal Fitness Trainer
Ideal LifeVision will give you the ability to assist your clients in:
Getting crystal clear on their action plan and vision
Seeing both the Big Vision and the Daily Details
Getting more out of your coaching and actually implementing it
Figuring out how to balance their business and personal life
Getting in the driver's seat and taking control of their life
And since we teach (and coach) what we need to learn, you don't need to "have it all together" to qualify to coach others on this powerful content. In fact, one of the first benefits of becoming an Ideal LifeVision Certified Coach is that you'll immediately begin manifesting and achieving your goals. This will give you the authenticity and experience to confidently coach others.
How do I know? Because I used to be where you are now.
Once I discovered this powerful technique, I went from making $24,000 annually to owning a million dollar business just 3 years later.
Like you, I knew the importance of setting goals. I was faithfully writing my goals down, but still not accomplishing them. There was a magic of completing goals that always seemed to elude me. So I turned to affirmations. I repeated my affirmations vocally day after day, over and over again. I would say things like "money flows to me naturally and easily," only to reach into my empty pockets in frustration. I was stuck in an ineffective cycle. I knew there had to be a better way!
Then, everything shifted and I went from living a life of poverty to one of abundance. It all happened when I came across a revolutionary method of goal setting—a simple system with proven results that I consider one of the most pivotal and exciting moments in my life. Since discovering this method, I have faithfully applied it, refined it, and uncovered its unique benefits. I am now living my best life with winning results. I have a clear vision of where my life is going and growing. I feel more at peace and feel more security in my life.
What would it mean to you to have a simple tool that would help you unlock your
unlimited potential and achieve your biggest dreams?
If you're motivated, committed, and ready to make your success happen along with the success of your clients, the Ideal LifeVision Certified Coach Training Program is for you!
Thousands of my clients have followed my step-by-step blueprint to success and gained clarity, focus, and results. The beauty of the program is that you don't have to have previous business or life coaching experience. Many of the people I've trained have worked in the health and wellness profession; they've been therapists or consultants, and even stay-at-home moms. These are people who started from scratch and quickly built successful businesses.
Imagine what this kind of success could do for you.
"Before implementing LifeVision, Barbara had been stuck for 12 years in a dead end and toxic job environment with very low pay. She did not see the possibility of ever leaving it.
I coached her on how to develop her LifeVision, and in her Professional/Financial section, she mapped out how she would leave her job and begin a new and exciting career as a speaker's agent, as well as add some additional income streams.
Within four weeks of recording and listening to her LifeVision daily, she was offered a position with an established speaker's agency, attracted four successful speakers to book, and quit her job! She is so excited about what the future holds and the incredible earning potential, and she credits LifeVision and the coaching she received as the catalyst for her new and successful life."
~Lisa Walker
What is a LifeVision and what makes it unique?
Ideal LifeVision is a thorough declaration of intent—a personal mission statement that includes the five key areas of your life: your relationships (family and social), your spirituality, your physical fitness, your financial and professional life, and your emotional and personal development. This is first created on paper with meticulous detail, then fine-tuned and tweaked until it is an expression of the "ideal you." It is then read and recorded by the individual, set to Baroque music, and output in a digital format so it can be listened to daily. The thorough clarity, combined with the effect of having it personalized in your own voice, and the portability and convenience of the digital audio file make the Ideal LifeVision unlike any other goal setting program available.
It sounds simple, but the process of listening daily to the ideal life you intend to create is incredibly powerful. It literally activates and attracts the things you desire into your life because you are focusing on what you want and narrowing the gap between where you are and where you want to be.
But the real difference comes because this is not just another self-help program—it's an implementation system. Good ideas are a dime a dozen, but the Ideal LifeVision assimilates the ideas and makes them a permanent part of your life. It's a tool that you and your clients can use to tackle a new idea or monumental goal, overcome addictions and bad habits, and live the life you've always dreamed.
How can you easily make money in 2012 as an Ideal LifeVision Certified Coach? 
Sell the complete "Creating Your Ideal LifeVision" program for $297 (with no coaching)
Train LIVE 1-2 day workshops to rooms full of people or at corporate retreats
Work one-on-one with individual clients who are willing to pay you hundreds (or even thousands) of dollars to create their Ideal LifeVision
Coach clients worldwide using weekly tele-workshops
Host quarterly Re-Vision retreats for those who need to revise their LifeVision
Hold VIP days and/or platinum programs for clients who want your expertise to help them reach their goals using their own Ideal LifeVision
What do you get when you enroll in the Ideal LifeVision Certified Coach Training Program?
Your Ideal LifeVision Certification is a hands-on, intimate, small group experience where you receive personal attention, connection, and support. You will be trained and certified to coach Ideal LifeVision using tele-seminars, LIVE workshops, weekend intensives, group coaching programs with private clients, and more. In addition, you'll learn how to attract ideal clients and turn them into raving fans that refer even more clients to you.
The training includes ample time for Q&A, plus open time where I candidly reveal what works (and what doesn't) in growing a financially and spiritually successful business. I don't hold back from sharing insider's secrets with my certified coaches.
With your Ideal Life Vision Certified Coach Training Program you get:
Six weekly certification sessions (90 minutes each) taught personally by me via tele-seminar
MP3 downloads and transcripts of each of the six certification sessions
Marketing training and support to help you attract Ideal LifeVision clients
License to purchase the "Creating Your Ideal LifeVision" program at wholesale (80% off of retail) including the recording system and music
The Ideal LifeVision logo and Certified Coach logo for you to proudly display on your website and marketing materials
License to use ALL of the Ideal LifeVision tools and strategies with your clients either as an entire system, or in modules, depending on what YOU want to offer
A listing in the Ideal LifeVision Certified Coach directory
A free "Creating Your Ideal LifeVision" program for your practice client
Training and license rights to deliver each proprietary Ideal LifeVision section: Spiritual/Character, Physical, Relationships, Financial/Professional, Personal Development
One hour of coaching with me on how to price your services and customize your own unique brand
Special discounts on additional training, and the ability to join (retake) a future certification course at no cost
Plus, you'll also receive these bonuses:
BONUS #1
FREE 3-month access to the ILV Certified Coach Membership, where you can attend bi-monthly training tele-seminars. You'll also have access to dozens of archived trainings in addition to two NEW trainings by myself and guest experts. This is where you'll go to continue to learn how to market your business and get renewed and inspired.
This membership site also includes a Certified Coach Group where you can network with other ILV coaches and receive ongoing support, feedback, ideas, JV partnership opportunities, accountability, access to new training materials, Q&A opportunities, and more.
BONUS #2
Enrollment in my 90-day coaching program so you can create your own powerful LifeVision. In addition to seeing how I TRAIN my own clients, you'll receive weekly group coaching for 90 days which includes 13 classes, feedback on each section of your LifeVision, and a one hour coaching session with me.
BONUS #3
FREE forms, templates, and scripts—everything you need to get up and running quickly and easily. These ready-made tools are provided in MS-Word format so you can brand them with your own logo and contact information.
Whether you're a seasoned life coach looking to add a new tool to your coaching toolbox, or you're just getting started, the Ideal LifeVision Certified Coach Training Program will help you and your clients achieve results. And Happy Clients = More Business for You!
Get started by setting up a personal conversation with me.  Please email me at admin@ideallifevision.com to get our appointment scheduled.
Make the decision today to live your ideal life by helping your clients live theirs by adding the Ideal LifeVision to your coaching toolbox.